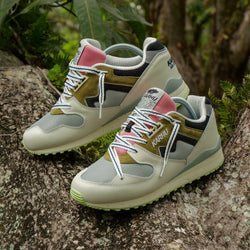 The category of shoes known as the Synchron first made their debut in 1980. As the assortment got bigger over the years, it was always easy to recognize the group by the unorthodox lacing system in the toe box. The research and design team wanted to provide a better fitting upper and came up with the innovative lacing system for added comfort and durability. The Synchron Classic, the 90s edition within the Synchron category, remains a comfortable model featuring an air cushion unit and a stable heel cap.
Materials: 
- Leather and suede overlays
- Different kinds of mesh
- Reflective details 
- Synchron lacing system 
- Double density midsole
- Air cushion
- Speckled midsole 
DELIVERY:
Purchased items will be shipped within 7 business days of the order, although most will ship within 3 to 4. Please allow up to 7-10 business days for delivery to arrive. If you still have no received your purchase after 3 weeks please notify sales
PRICES, SHIPPING AND HANDLING CHARGES:
All orders are shipped via USPS (First Class & Priority Mail for domestic and international). Some orders may be shipped via UPS or FedEx. Rates are calculated through the USPS calculator. International customers are responsible for customs duties and/or brokerage fees in addition to shipping cost assessed during checkout.
If your tracking information states that your package was delivered and you have not received it you must contact the shipping courier in regards to not receiving package and file a claim. We will not be held responsible for lost or stolen packages that show as delivered and refunds will not be issued for these orders.
ALL SALES ARE FINAL. NO REFUNDS OR EXCHANGES.
*SPECIAL CIRCUMSTANCE
In the event of our sales team making an exception, our buyer will have 15 days from the date of delivery to cancel the purchase, return the products (in mint condition) and we can initiate the refund process upon receiving the merchandise. A 15% restocking fee will apply to the order and shipping is non-refundable. Claims may be escalated to a sales team specialist, if the sales team sees fit.
Connect with us